Sightseeing Train Guide
Furano Biei Norokko Train
Asahikawa
Furano
The Furano Biei Norokko Train connects between Asahikawa and Furano. You can see the lavender fields in summer, and also the superb view of hills in Biei from the train window. Feel the Hokkaido's comfortable breeze from the big window!
Operating dates

Operated from June to September every year
Price

Basic fare ticket 1,290 yen (Asahikawa-Furano)

Price for one-way
Half price for age 6-11
Reserved seat

<Reserved seat: 2 cars, Non-reserved seat: 1 car> Reserved seat ticket 840 yen

Price for one-way
Half price for age 6-11
Please receive a reserved seat ticket at the JR Hokkaido stations such as New Chitose Airport Station and Sapporo Station after arriving in Hokkaido.
JR-EAST Train Reservation cannot be used.
Reservation

Reserved seats: Reservation required
Available rail passes

Hokkaido Rail Pass and Japan Rail Pass
Train formation
←Asahikawa, Biei
Furano→
*Train name, operating dates, train formation and cars are subject to change.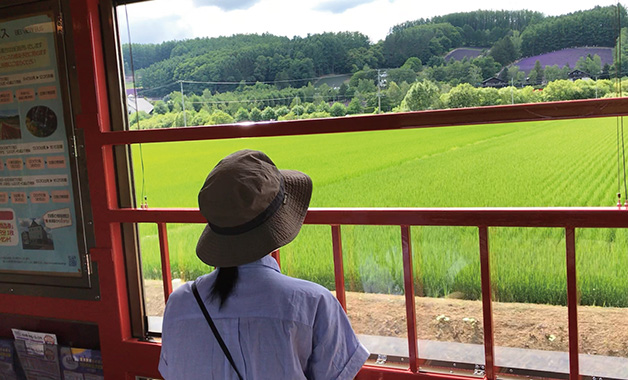 Train with open windows!
You can see the lavender fields and pastoral sceneries from the window.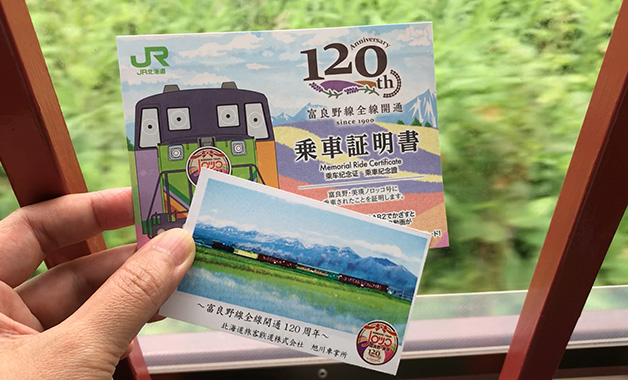 Get a memorial ride certificate!
A staff hands out a memorial ride certificate with different design every year.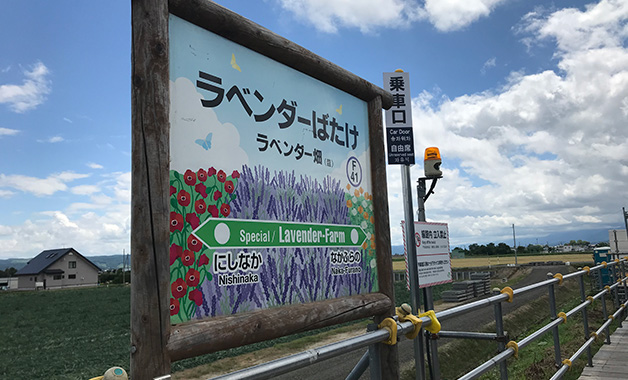 There is a station near the popular flower fields!
You can walk to the flower fields from "Lavender-Farm" Station easily.
Enjoy the nature of Hokkaido with an audio guide!
The local trains running along the Furano Line (between Asahikawa and Furano), have been providing tour guide services via an "Audio Guide" using a GPS application. Click here for details.