Sightseeing Train Guide
Kushiro Shitsugen Norokko Train
Kushiro
Toro
The Kushiro Shitsugen Norokko Train runs leisurely between Kushiro and Toro. You can enjoy the view of the Kushiro Wetland which is the biggest wetland in Japan from the place you cannot reach by car. Also, the wild animals can be seen from the train window. Fully enjoy the magnificent view of Hokkaido!
Operating dates

Operated from April to October every year
Price

Basic fare ticket 640 yen (Kushiro-Toro)

Price for one-way
Half price for age 6-11
Reserved seat

<Reserved seat: 3 cars, Non-reserved seat: 1 car> Reserved seat ticket 840 yen

Price for one-way
Half price for age 6-11
Please receive a reserved seat ticket at the JR Hokkaido stations such as New Chitose Airport Station and Sapporo Station after arriving in Hokkaido.
JR-EAST Train Reservation cannot be used.
Reservation

Reserved seats: Reservation required
Available rail passes

Hokkaido Rail Pass and Japan Rail Pass
Train formation
←Kushiro
Toro→
*Train name, operating dates, train formation and cars are subject to change.
Recommended spots along the line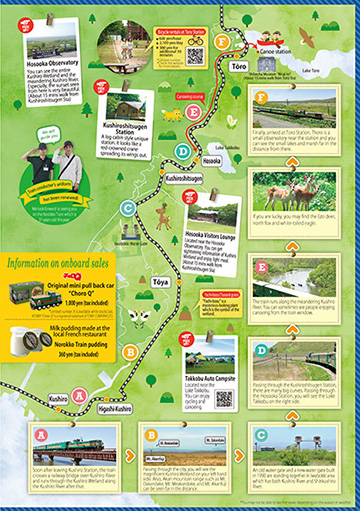 PDF
Enjoy the nature of Hokkaido with an audio guide!
The local trains running along the Senmo Line (between Kushiro and Abashiri), have been providing tour guide services via an "Audio Guide" using a GPS application. Click here for details.