JR Hokkaido IC Card-Kitaca
Electronic Money Service
Electronic Money Is..
What is Kitaca electronic money? You can shop easily and speedily with one touch of your card at a terminal (card reader) located at a Kitaca electronic money affiliated store. Moreover, Kitaca can be used in the following transportation related electronic money affiliated stores (except for PiTaPa affiliated stores). Also, transportation related electronic money under the following (except for PiTaPa) can be used at a Kitaca affiliated store.
*IC is a symbol mark for nationwide mutual use of transporation related IC cards.
*The most of the aforementioned names and logos for each operator are registered trademarks.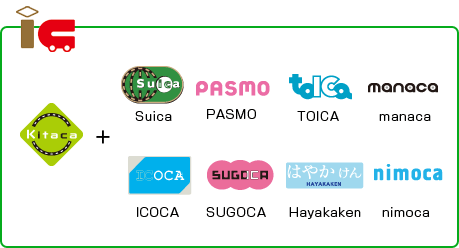 Where to use Kitaca Electronic Money
Kitaca electric money can be used for various scenes including stations and station facilities.
Service Mark Image

The card can be used at shops, vending machines and lockers with this mark.
Card Reader

The card can be used at shops with this type of card reader.

How to use Kitaca Electric Money
Kitaca card can be used by simply scanning it on the card reader.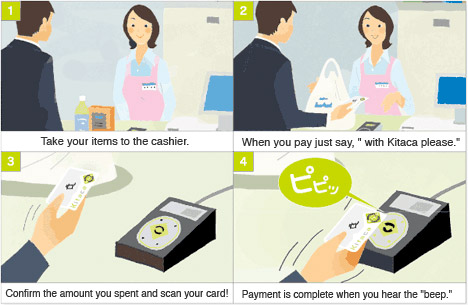 Advantages of using the Kitaca Electronic Money
There are many advantages of using Kitaca electronic money.
With one card you can use JR and shop without the hassle of small change and taking the time to pay.
It is easy to keep track of usage history so you can manage your household finances with ease. Unlike a credit card, you need not enter a pin number.
Even if you happen to lose your Kitaca, the remaining amount is insured and you can have it re-issued.
(If you have a Registered Kitaca or a Kitaca Commuter Pass.)