About Series H5 Bullet Train (Hokkaido Shinkansen)
Interior Layout of Cars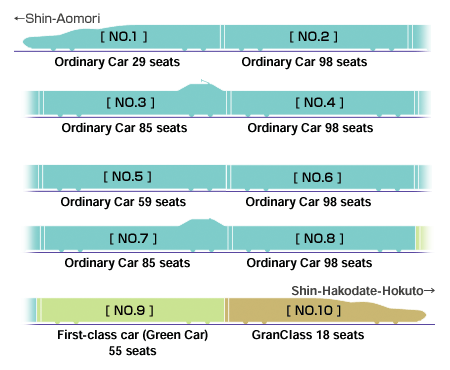 GranClass
Rail travel in Hokkaido will take on a new persona.GranClass offers exceptional spaciousness, comfort and hospitality.
The pattern of the cabin's blue carpet represents the brilliance of the ocean, lakes and marshes along the Shinkansen's route. Its design was inspired by the Tsugaru Strait and Hakodate Bay.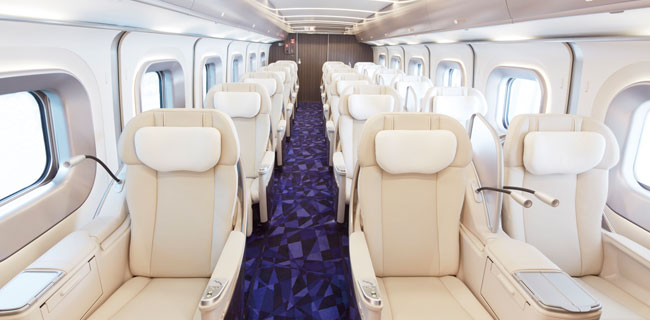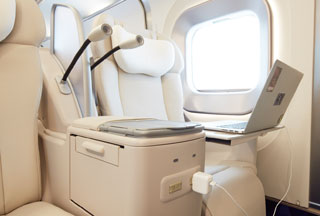 [Folding Table]
Can be unfolded into a small or large size table to suit many different purposes.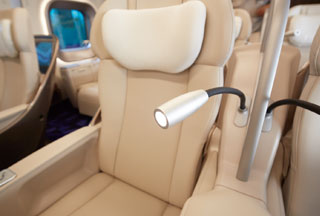 [Fully Adjustable Reading Light]
Can be freely adjusted at any angle of your choice. You can enjoy reading at your leisure while seated any way you prefer.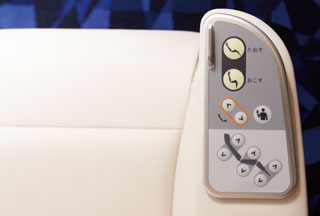 [User-Friendly Control Panel]
Features elaborate controls for reclining your seat and a button for calling attendants.
First-class car (Green Car)
Featuring a relaxing space combining refinement and practicality.
The carpet's design is based on "umiake" ̶ the time in spring when drift ice leaves the coast of Eastern Hokkaido. The walls' creme color is inspired by Hokkaido's dairy products, while the cabin blinds showcase snowflake-pattern designs.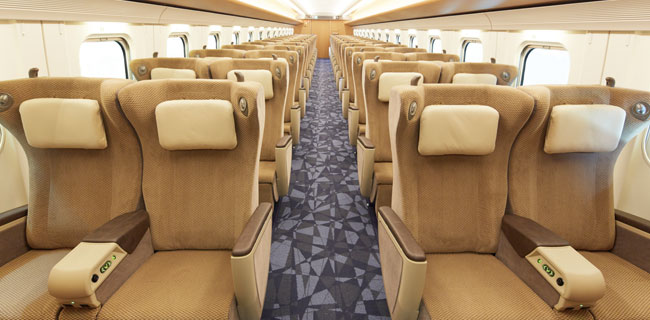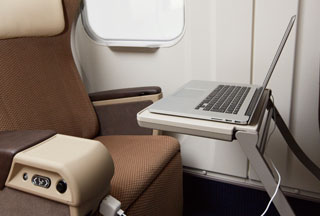 [Table and Computer Power Outlet]
The large table ̶ which folds out from the seat in front of you ̶ as well as the power outlet allow you to easily do computer work while you travel.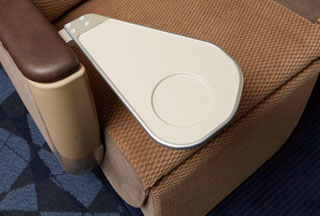 [Cocktail Tray]
Sit back and relax while enjoying a beverage with this tray which is convenient for drinks and is stowed away in the armrest.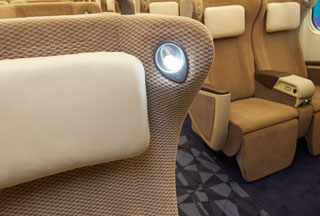 [Seat with Built-In Reading Light]
Seat equipped with a large adjustable headrest also includes a reading light.
Ordinary Car
Providing a spacious cabin and interior carefully designed with user-friendliness in mind.
Portions of the walls and ceilings are made using wood grain, and the aisle carpet is accented with a snowflake motif. The designs on all cabin blinds are inspired by Jomon period pottery patterns and Ainu patterns.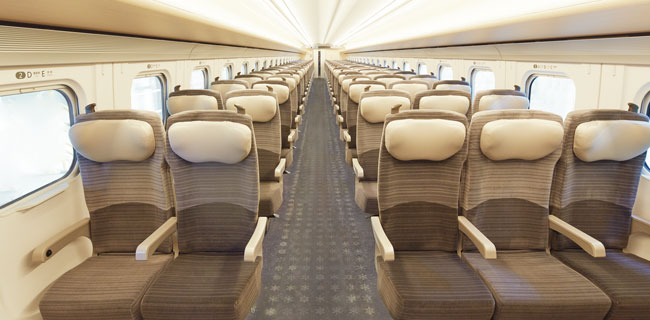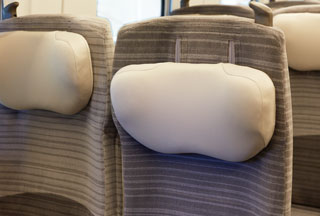 [Adjustable Headrest]
The headrest can be adjusted to suit each customer's different preferences, making for a comfortable riding experience.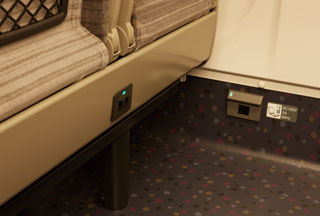 [Power Outlet for Each Seat]
Equipped at all seats. Convenient for computer use or charging your cellular phone.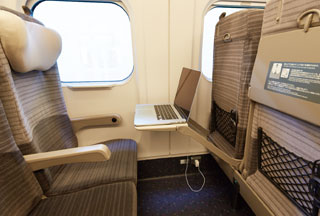 [Plenty of Legroom]
1,040 mm of space in front of your seat ̶ so it's spacious even when your table is folded out in front of you.
Facilities
Our facilities are designed to ensure a barrier-free and user-friendly Shinkansen experience.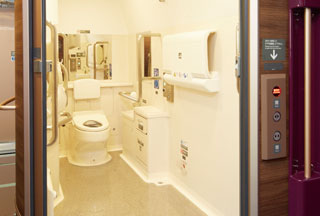 [Large Restroom for Accommodating Electric Wheelchairs]
This space is large and accessible, including a toilet with improved handles to support electric wheelchair users and other physically-challenged customers.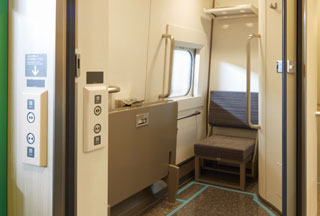 [Multipurpose Room]
Equipped with multi-functional furniture which can be folded into a cot bed and a bench_this space can be used for breastfeeding, changing and more.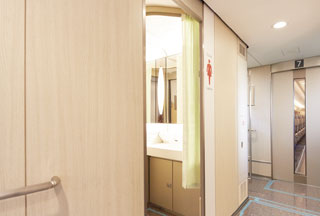 [Women-Only Powder Room]
This women-only space, equipped to reflect the wishes of our female customers, includes vanities, toilets with boards for changing clothing, and more.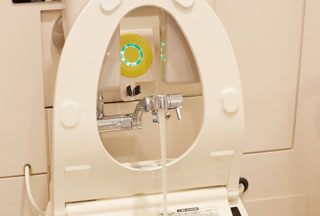 [Ostomy-Supported Facilities]
We've improved our facilities with "universal design" in mind to include ostomy support and more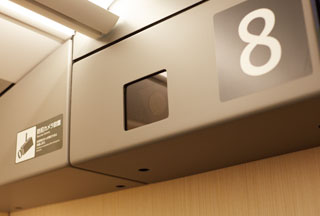 [Deck and In-Cabin Security Cameras]
Our security cameras operate together with emergency button devices in all cabins.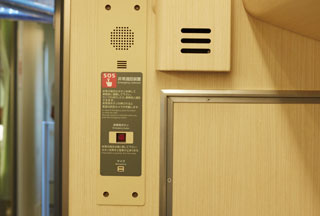 [Emergency Call Device in All Cabins and Restrooms]
All cabins and restroom stalls are equipped with emergency call devices for enhanced security.